---
See what our customers are saying!
Jai and the team have looked after me and our pool for the last 5 years – and it has been a great experience! I have found them to be hugely knowledgeable, very good with the technical stuff like modifications and repairs, and very reasonably priced. They're flexible with their billings, not charging for every single drive-by, and most importantly their service is excellent every time – both in store and on site.

Just wanted to let you all know that everything in our pool is
working perfectly again now and it is looking crystal clear and
lovely. Thank you so much for all the work you did in fixing the problems, we
really appreciate it very much.

Melissa.

I used Pool and Spa marts services for monthly cleans of my pool. They had great customer service and were always available when I needed to ask questions. Great work!

Jon S.

Great friendly service, trustworthy and conscientious. What more can you ask for.

Andy S.

Just want to say a big thank you for installing the salt water converter. Its 100% more economical and the pool has been sparkling all year!

Happy Customer – Kelly.

A quick note of thanks for your assistance on the pool reparation.

Good to have the saga all resolved in time for summer, and thanks again for all your assistance in getting us to this result.

David.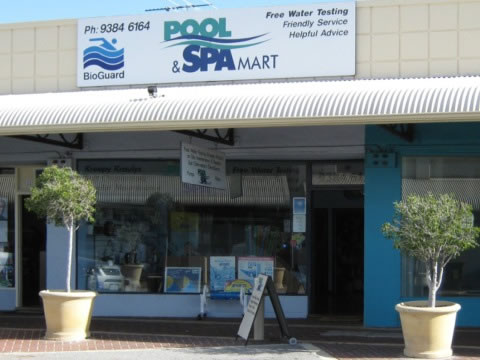 ---
Contact Us
---
Monday, Thursday, Friday:9:30am–5:00pm
Tuesday, Wednesday:8:30am-4:00pm
Saturday:
9:00am–1:00pm
Sunday:Closed
Opening times